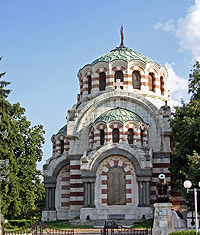 There are many reasons for choosing Pleven as the place to learn. There are even more reasons for choosing the city as a place to live in and work during one's undergraduate career.
Pleven is a modern city - the academic, economic, cultural and medical center of Central and North-West Bulgaria, situated in the heart of the Danube plane, just two hours away from the capital Sofia.
Pleven boasts cultural, leisure and sporting facilities of the highest quality. Life in Pleven is never dull. There is a vast array of things to do and places to go, with pubs and cafes to cater for every conceivable taste. Entertainment opportunities are especially plentiful - music, drama, opera, and dance plus dozens of galleries and cinemas to ensure that free evenings are full evenings.
Pleven enjoys excellent highway and railway links. Through it pass the roads to Sofia, Varna, Rousse, Plovdiv, Veliko Turnovo and Lovetch. It is also a railway junction on the railroad from Sofia to Varna and the international railroads from Sofia to Berlin, Bucharest, Moscow and Sankt Petersburg.

The climate in Pleven is continental, with four clearly differentiated seasons: spring, summer, autumn and winter. Annual temperatures fall within the range of minus 15°C to plus 35°C.
Religion is freely exercised in Bulgaria as a basic constitutional right. Christian Orthodox community is predominant. Minorities of Moslems, Catholics and Protestants also have their place. The most common attitude of Bulgarians to any faith or religion can be summarized in the motto: "Respect God but rely on yourself!" The official language spoken is Bulgarian. Foreign languages spoken include mostly Russian and English, occasionally German and French.
 
Pleven is the birthplace of the well-known Bulgarian opera singers Katya Popova, Assen Selimski and Gena Dimitrova, and artists Iliya Beshkov and Svetlin Roussev. International opera festivals and puppet theaters take place in Pleven, as well as many national and local festivals, competitions and events.