E-mail to contact the department: This email address is being protected from spambots. You need JavaScript enabled to view it.
The Department of Radiology and Physiotherapy at Medical University - Pleven was created in 1976. For its material base, the X-ray department of the former Primary District Hospital  "Dr. P.Beshev" (currently University Hospital for Active Treatment "Dr. G. Stransky.") is employed.
Later in 1978, the Department of "Physical Therapy and Rehabilitation" was included into the structure of the Department of Propaedeutics of Internal Diseases.
In 1977 the first Head of the Department was elected - Associate Professor Atanas Mihailov Baldzhiyski, who had, at that time, been a longtime lecturer at the Department of Radiology at Medical University - Plovdiv. Associate Professor Baldzhiyski had been a Doctor of Medical Sciences since 1982, and in 1983 was awarded the academic title "Professor". He was the Нead of the department until his retirement in 1984.
Since 1996, the Head of the Department has been Associate Professor Dr. Nachko Totsev Iliev,MD, who later aquired the academic title "Professor" (July 2014).
Currently, the Department is subdivided into two divisions - "Radiology" and "Nuclear Medicine"
The first lecturers – Assistant Professors  Dr. Vasil Panchev and Dr. Georgi Markov were selected for the academic year 1976-1977. Later a third Assistant Professor was appointed - Dr. Lydia Kalkandjieva.
The first lecturer at the Radioisotope laboratory was Dr. Miroslav Donchev.
In 1981, the department emplyed three more Assistant Professors: Dr. Ivan Simeonov, Dr. Tatiana Tsarovska and Dr. Vesselina Yakimova. In 1983, the number of academic staff increased once more:
Dr. Nachko Totsev – Assistant Professor
Dr. Margarita Slavova – AS Ryl
Krasimir Raykov - Eng. Electronics Rhyl
Dr. Tatiana Tomova – Radiology/ Radioisotope Department
Valentine Duhlenski - Eng. Radiological/ Radioisotope Department
Later, the Department employed the following physicians:
Dr. Polina Tsankova – Assistant Professor
Dr. Svetlana Nyagolova – Assistant Professor
Dr. Daria Hinkova – Assistant Professor
Dr. Emilia Encheva – Assistant Professor
Under the guidance of Prof. Baldzhiyski, two medical theses to aquire the degree "Candidate of Medical Sciences" were successfully defended:
In 1988, Dr. Miroslav Yulianov Donchev - " Radionuclide diagnostics of mechanical and infected loosening in endoprosthesis hips"
In 1993, Dr. Nachko Iliev Totseva - "Radiologic study of bone maturity in children and adolescents with abnormal height and weight development."
1993 - Diploma for postdoctoral Dr. Nachko Iliev Totsev- № 29153 of 13-Dec-1993
1996 - Certificate for science degree - Associate Professor № 17690 of 15-Jan-1996
Assoc. Prof. Nachko Totseva Iliev, MD is Head of  Radiology Department " at MU- Pleven from 1996 to date.
By Protocol № 16 / 14.07.2014 Academic Council approve the choice of acquiring scientific title "Professor" based on competition Professor of 3.01.28 in the field of Higher Education 7. "Health and Sports" in professional direction 7.1. "Medicine" and scientific specialty "Medical Radiology (incl. the use of radioactive isotopes)" for the needs of the Department of Imaging Diagnostic at UHAT "Dr. G. Stransky" - Pleven announced in the State Gazette. 24 / 18-March-2014
By Order of the Executive Director of the University Hospital "Dr. G. Stransky" from May 2014 created a new structure - "Department of Imaging Diagnostic " which combines diagnostic imaging units in the First and Second clinic and the Department of Imaging Diagnostic at the Oncology center.
Assistant Professors at the department are: 
Dr. Vasil Penchev Stoychev - Chief Assistant
Tihomir Ventsislavov Andreev, MD – Assistant
Dr. Lyubomir Ilkov Tsankov – Assistant
Dr. Polya Ljubomirova Krasteva – Assistant
Dr. Dimitar Ivanov Angelov – Assistant
Dr. Daniel Spasov Stoilchev – Assistant
Dr. Tsonyo Ivanov Tsonev– Assistant
Dr. Nela Tsetso Stefanovska– Assistant 
At the division of Nuclear Medicine and Metabolic Radiotherapy - lecturers are:
Assoc. Dr. Miroslav Yulianov Donchev - Head of Sector
Dr. Tatiana Tsarovska - Chief Assistant
Dr. Margarita Slavova - Chief Assistant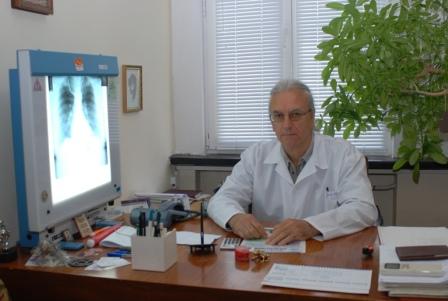 Prof. Dr Nachko Totseva Iliev, MD Head of Department "Radiology"